Developing Boutique Wireless Products for Specialized IoT Needs
GotRad provides off the shelf wireless products for niche IoT needs. By providing off-the-shelf, high-value and low-cost hardware devices, IoT projects can be less complicated to develop, faster to deploy, and executed with a higher success rate. Less waiting, more shipping.
GotRad started with the intent of filling those market needs. As a startup, however, GotRad didn't have an internal engineering team to create those products. GotRad turned to F3 Wireless for the development and manufacturing management of some of these key products.
F3 completed design, testing, and certification on three of GotRad's products that will be coming to market soon:
CellCracker: LTE cellular M1 mPCIe card with full device level certification
CellBox: Simple, low-cost, fully certified cellular modem terminal
MaxBlue: Bluetooth system on module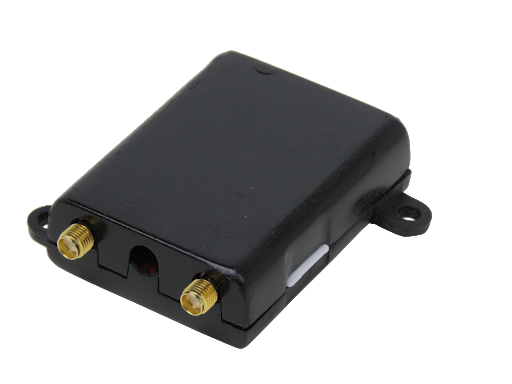 "F3 has completed our full design and product development, including documentation, manufacturing guidance, test, and certifications. F3 helped us understand the technical trade-offs including sourcing for production quantities and builds, as well as product documentation. Just because your company doesn't have an engineering team, that doesn't mean you can't have your own products."
– Maggie Davis, General Manager of GotRad
"F3 has completed our full design and product development, including documentation, manufacturing guidance, test, and certifications. F3 helped us understand the technical trade-offs including sourcing for production quantities and builds, as well as product documentation. Just because your company doesn't have an engineering team, that doesn't mean you can't have your own products."
– Maggie Davis, General Manager of GotRad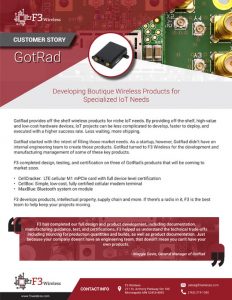 Download the GotRad Story
"F3 has completed our full design and product development, including documentation, manufacturing guidance, test, and certifications. F3 helped us understand the technical trade-offs including sourcing for production quantities and builds, as well as product documentation. Just because your company doesn't have an engineering team, that doesn't mean you can't have your own products."
– Maggie Davis, General Manager of GotRad