What problem are we solving and why should you care?
Designing radio products is much different and more difficult than designing other types of electronic products. Radio performance is dependent on the environment, and it's very easy for standard electronic design practice to result in a product with poor radio performance in a number of ways. F3 Wireless can help ensure you build a competitive product the first time out. If you've already built prototypes, we can provide a little guidance now that can save a lot of time and money. Radio product design is always iterative but F3 can speed up your development cycle and reduce the number of cycles to get to market.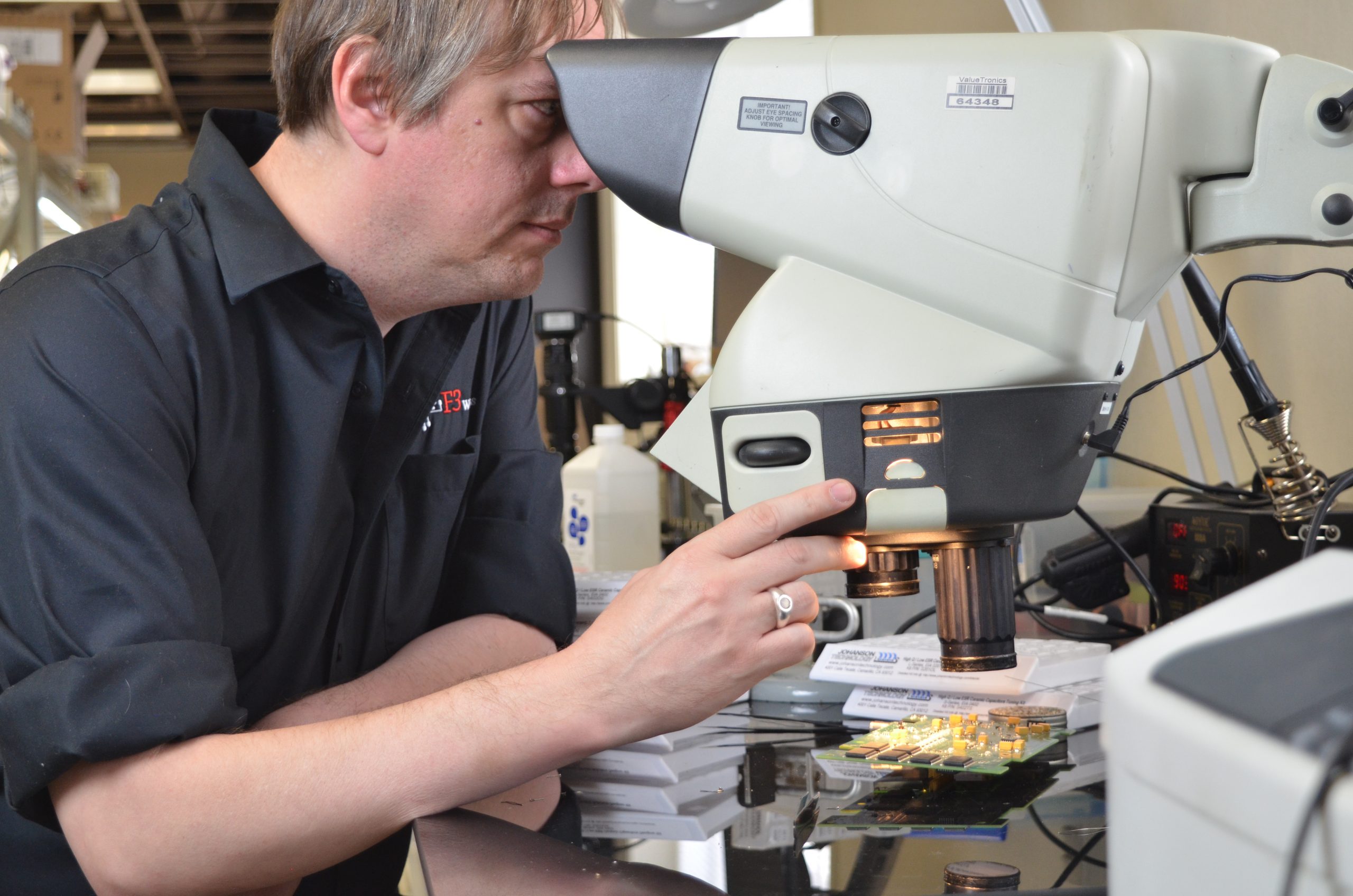 Types of certification
Governmental (FCC, Industry Canada)

Industry (PTCRB, BlueTooth SIG, WiFi Alliance)

Carrier (AT&T, Verizon, Sprint)

Environmental (UV, temp, shock, vibration)
Our Process

PHASE 1
Customer provides necessary information (schematics, design files, etc)

PHASE 2
F3 evaluates information and generates detailed Performance Optimization Plan document based on experience of hundreds of previous designs

PHASE 3
F3 & Customer review Optimization Plan together and define next steps with action items
The Performance Optimization Plan is a written list of changes to make to the design files. If a customer follows our direction and implements all of the changes but the product still has issues, we will review the test results and design files and provide an updated report.
What will we do and what's the deliverable?
Implementing RF design best practices, we will review your design files and documentation. From this analysis we will generate a detailed report of proposed enhancements and changes called the Performance Optimization Plan. If these changes are implemented, but the product still has issues, F3 will review the test results and design files and provide an updated report. This mitigation cycle will continue until the product passes certifications.
Pitfalls Avoided with PerfGuidance
Increased risk of poor radio performance leading to market rejection if released without mitigation
Increased risk of poor radio performance leading to lost time and money in performing mitigation
Potential certification failure leading to delayed time to market
Increased risk of project cancellation
Why F3 Wireless for Performance Readiness?
1) Know-how: We execute these product developments ourselves so we know how things fail and why. We've fixed hundreds of products with a wide range of radio related performance and certification problems.
2) Facilities: We have the CAD tools and simulation tools to investigate any issue. We have all the test equipment (either in our own lab or with a nearby partner) to do these tests and pre-tests, in order to guarantee that the device will pass.
3) Capacity: Our team includes several qualified experts to ensure a professional turn-around time and resulting deliverables.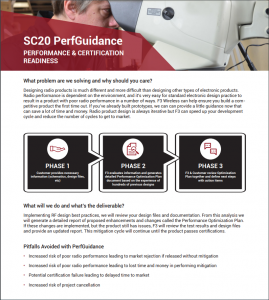 Download the PerfGuidance Document